Geuren blijken belangrijk signaal voor ondergrondse roofdiertjes
Mini-roofdieren onder de grond ruiken waar hun prooi zit, ontdekte een team van het Nederlands Instituut voor Ecologie (NIOO-KNAW). Die prooi bestaat uit bodembacteriën die met elkaar communiceren via geuren. En die communicatie luisteren de roofdieren (de eencellige protisten) af.
De resultaten bieden aanknopingspunten voor toepassing in de landbouw, en staan deze maand online bij het ISME Journal van de uitgever van Nature.
Onder de grond is het donker. Dat maakt geuren des te belangrijker. De bodem- en microbiële ecologen van het NIOO wisten al dat bodembacteriën heel vaak communiceren via geuren. Eerste auteur Kristin Schulz-Bohm: "Een deel daarvan kunnen wij mensen ook ruiken. De bekende gronderige bosgeur, vooral goed te ruiken na een frisse zomerbui, is bijvoorbeeld het resultaat van die 'pratende bacteriën'. Maar nu blijken ook de vijanden van de bodembacteriën gebruik te maken van die geuren."
'Lange' afstand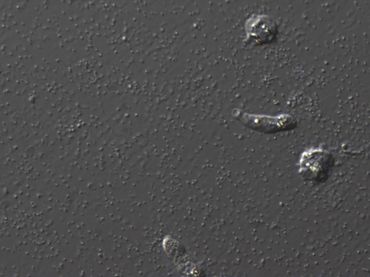 Protist Saccamoeba lacustris (Bron: Stefan Geisen)Protisten behoren tot de belangrijkste vijanden van bodembacteriën. Toch was het tot nu toe onbekend hoe ze hun prooi konden vinden. De bodem is namelijk een waar doolhof voor kleine organismen. Zelf zijn protisten wel groter dan bacteriën, maar ook maar eencellig. Nu blijken geuren dus heel belangrijk. Vooral voor communicatie 'op lange afstand', en dat is het al gauw als je een micro-organisme bent. De gasvormige geurstoffen kunnen tot op zo'n 10 centimeter ver waargenomen worden.
De 'rovertjes' ruiken ook het verschil tussen bacteriesoorten. Zo kunnen ze waarschijnlijk kiezen voor de beste of hun favoriete prooi en daar doelgericht op af gaan, denkt bodemecoloog en protistenkenner Stefan Geisen van het onderzoeksteam.
Kerstboom
Terpenen blijken een belangrijk bestanddeel van het 'aroma' te zijn. De onderzoekers ontdekten namelijk dat bacteriën die geen terpenen meer konden aanmaken, geen effect hadden op de protisten. Terpenen? Schulz-Bohm: "Ja, die kent iedereen eigenlijk: niet van naam, maar wel van de geur van kerstbomen. Of mandarijnen en lavendel bijvoorbeeld."
En een toepassing? Die zien de onderzoekers ook al gloren. "Je kunt de geurstoffen wellicht voor biologische bestrijding inzetten. Met de geuren kun je bijvoorbeeld de vijanden van ziekteverwekkers en andere schadelijke micro-organismen te hulp roepen." Dus: terpenen zijn niet alleen iets voor Kerstmis.
Tekst: NIOO-KNAW
Foto's: Stefan Geisen, NIOO-KNAW (leadfoto: bodemanimatie protisten, mini-roofdieren)